Whether you're craving Chicken Noodle, Navy Bean or Southwest Vegetable, Soup is Good Food. I love Home-made soup on a cold night. In this issue, I will share some of my favorite, easy, soup recipes.
Chicken Noodle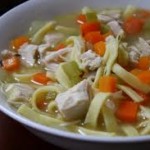 1  32 oz. Carton of Free Range Chicken Broth
½ package egg noodles
¼ cup chopped celery
 ½ cup diced carrot
½ tsp sea salt
½ tsp cumin
½ tsp oregano
¼ tsp parsley flakes (or chopped fresh)
1 cup diced cooked chicken (or one small can)
Cook the carrots and celery in chicken broth until tender, about 20 minutes. Add remaining ingredients and simmer until noodles are tender. (about 8 to 10 minutes longer).
Navy Bean (With Smoked Turkey Leg)
Smoked Turkey tastes a lot like ham, so this variation of bean soup is lower in fat,
and a tasty way to make navy bean soup.
1 bag navy beans (or great northern beans)
6 cups water
1 tsp sea salt
1 Tablespoon baking soda
1 large onion (diced)
1 clove garlic (minced)
1 tsp cumin
1 diced carrot
1 smoked turkey leg
Rinse beans and boil them for 10 minutes and turn off stove. Let soak for 2 to 4 hours. Then add all remaining ingredients and simmer for 2 hours or until beans are tender. Remove meat from turkey leg and stir. Then serve.
.
.
.
Southwest Vegetable Soup
4 cups Vegetable Broth or Chicken Broth
1 small bag – frozen  organic mixed vegetables
1 can black beans
1 can petite diced tomatoes with green chili's
2 tsp chili powder
2 cloves minced garlic
½ cup diced onion
Sea salt to taste
Pour all ingredients into a large pot and bring to a boil.
Simmer until onions are soft and translucent. (about 45 min)