The Fidget Chicks make sensory mats for Dementia Patients. We call them Fidget Mats. First we purchase cloth place mats and supplies. Some of the supplies are donated by neighbors and the community.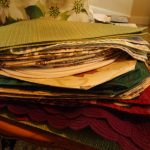 Next – We gather up these supplies and fill tote bags with goodies. We take these supplies home and sew the objects onto the mats. Then we sew a tag on the mat that reads: "Made with Love by a Fidget Chick". 
Every Tuesday we meet and share our ideas. We laugh and marvel at the designs each Fidget Chick created. Then we do a Quality Control check on each mat, and bag them in packages of 10. We load them in our cars and deliver them to local Nursing Homes throughout North Texas. We also mail these Fidget Mats to individuals who want them. We ask that the recipient pay postage as it gets expensive to mail them. A 10 pack can cost $13 to $18 to mail.
These photos are approved by the families and much appreciated also. The smile on their face when they see a Fidget Mat is priceless. Sometimes the patient will speak (even after being silent for months). Sensory Mats similar to these are sold elsewhere for upwards of $40 each. The Fidget Chicks donate ours. We know the family is already suffering. We cannot charge a fee for the love we put into them. We do accept cash donations to help purchase supplies. We also accept donations of cloth place mats, zippers, beanie babies, doll clothes and gadgets of all sorts. We don't put keys on the mats because they make the patient want to go home. We never place sharp objects on them and give each mat a stress test before bagging them.
Visit our facebook page: (Fidget Chicks) for comments and updates. Read more about Fidget Mats in this eMagazine. It is my mission for women all across America to see this idea and share it. Let's fill every Nursing Home with Fidget Mats for the patients who just sit in a wheelchair and stare into space. Let's bring them a smile and a memory. Donations to help our Mission are much appreciated.